Mannequin Noir: 5 Black Models That Slay on Repeat
written by Moeima Makeba
Most models are seen and not heard. But these faces are deserving of much more than a passing like or click. Because nothing inspires like beauty and music we've paired each mannequin with a 90s theme song that sums up just how iconic their place in the fashion world and Black royal kingdom is.
MANNEQUIN NOIR #1 Duckie Thot
Like shimmering onyx, 21 year old South Sudanese-Australian born, Nyadak Thot or, Duckie is hard to ignore or walk past. Her small, slight baby face features and large eyes peek out from skin that seems endlessly free of flaws. Having been on the New York scene for only a year, she's landed spots in everywhere from Vogue Italia and W to Yeezy. Hers is a beauty that sneaks up on you, twisting you up while you're busy staring.
MANNEQUIN NOIR # Slick Woods
You never forget a freak. Latest chameleon on the block that's plays as rugged as she does crisp and clean, Slick Woods (real name, Simone Thompson) is a favorite of Rihanna's having walked both her Fenty x Puma presentations in Paris, but has also appeared in Dazed Magazine, Love Magazine and the cover of i-D. Discovered in LA lured with a spliff by another model, her trademark pronounced gap, full lips, and bald head is every truth that matters.
MANNEQUIN NOIR #3 Sabinna Karlsson
Imported from Sweden, Karlsson's freckled face, big red hair and full, beautiful size 16 curves leaves you in awe. Not long after arriving in New York, she gave up unhealthy practices of struggling to maintain a size 2 figure and embraced her body. Recent appearances on the Chromat runway and in Essence and Teen Vogue show her body so much love and she reinforces and reminds us all to love the skin we're in.
MANNEQUIN NOIR #4 Shaun Ross
Shades of brown are not the baseline requirement of Blackness. Albino male model Shaun Ross, born and raised in the Bronx, is living proof. Teased as a child now for not 'belonging', Ross now delivers pronounced facial features and a striking aesthetic that has been embraced by Lana Del Rey, Queen Bey and designers like Givenchy, Alexander McQueen and Skingraft.
MANNEQUIN NOIR #5 Jodie Smith
A slow burn like the En Vogue track. Jamaican model/actress Jodie Smith is stealthy af. With appearances on True Blood, Levi's campaigns, videos with 2 Chainz, cult fashion horror flick The Neon Demon, and so much more is life as Jodie Smith. She manages to snag interesting parts in projects of all sorts while curving the runway, seemingly with purpose. LA-based, Smith flexes her acting muscle as much as possible with roles in upcoming short films.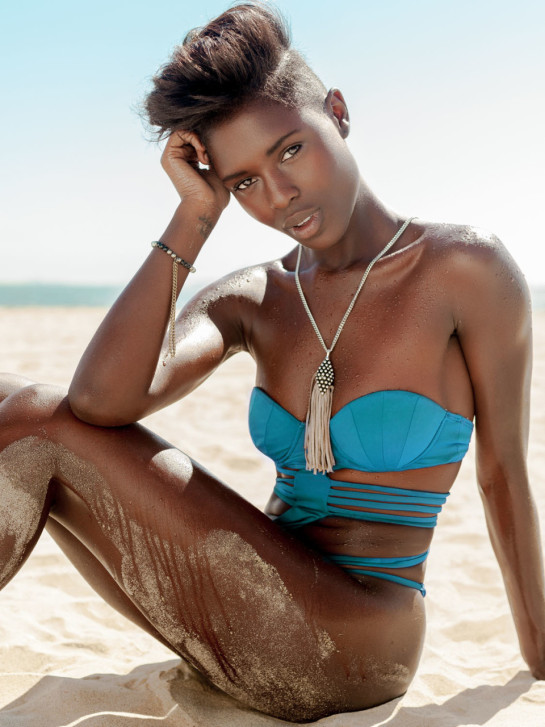 MANNEQUIN NOIR - OG STATUS Naomi Campbell
Naomi does it like nobody does. Discovered when she was 15 years old, and Ms Campbell is 46 with a career that has spanned 30 years and is the Sphinx in a land where most models are chewed up, spit out and retired by the age of 23. Cupid bow lips, legs for centuries and a walk so mean, keeps Ms. Campbell not only constantly in demand by the greats (Versace, Givenchy, Yves Saint Laurent) but irreplaceable on the current scene, where most of her 90s contemporaries have long since disappeared.